Discover more from Ty Burr's Watch List
What do you want to watch tonight? I'm a movie critic with four decades in the trenches and I have some thoughts for you (not always about movies).
Over 13,000 subscribers
What to Watch: Free Radicals
Reviews of "Radical," "Rustin, "Fingernails," "Nyad," and "Quiz Lady."
I did interlocutor duty with Alexander Payne and "The Holdovers" Monday night at the Coolidge Corner Theatre, which means I missed the Boston press screening of Sofia Coppola's "Priscilla," which means I'll catch up with it next week. And for reasons unknown, "What Happens Later," Meg Ryan's return to the romantic comedy genre she ruled at the end of the last millennium, was previewed only in New York and L.A. Not sure what the publicists were afraid of, but the few reviews have been surprisingly indulgent; it hits theaters today.
Other new theatrical releases include: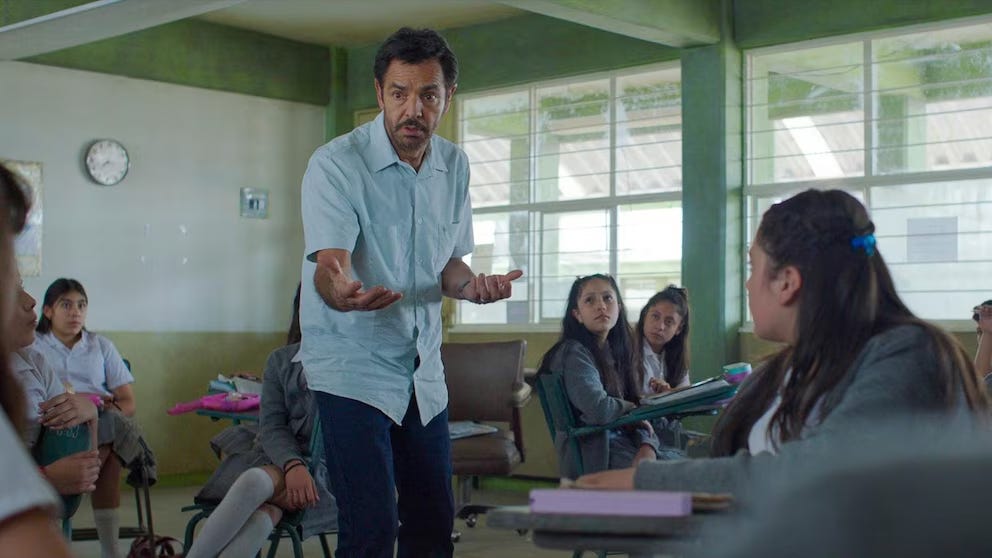 "Radical" (⭐ ⭐ 1/2) — A crowd-pleaser – literally; it won an audience award at this year's Sundance – in the hardy "To Sir With Love" genre. Eugenio Derbez (above), who played the inspirational teacher in the 2021 Best Picture winner "CODA," gets an entire movie for essentially the same purposes, as Sergio Juarez, a freewheeling educational innovator at a slum school in Matamoros, Mexico. The movie, written and directed by Christopher Zalla and based on a 2013 Wired article, manages the trick of being wholly predictable yet emotionally satisfying, with sharp work by the kid actors and a lot of winning comic business from the star. "Radical" is hardly that, but it doesn't sugarcoat the harshness of the children's lives or those of their parents, even as it implies that one can reach the stars from a garbage dump. You've seen this movie before; you probably won't mind seeing it again (but you might want to wait until it goes to streaming).
---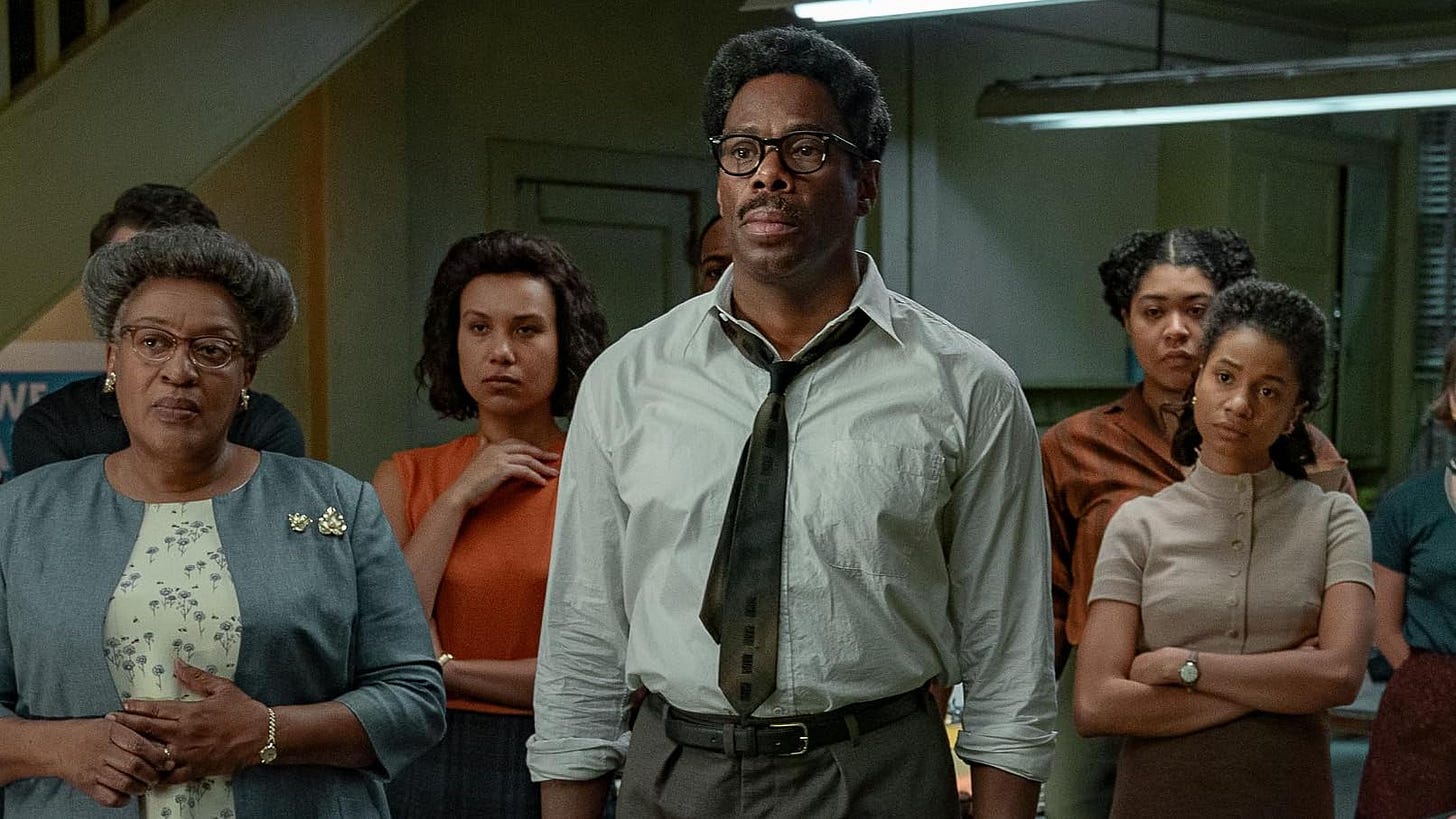 "Rustin" (⭐ ⭐ ⭐, in theaters, on Netflix November 17) gives the talented actor Colman Domingo (above center) a rare lead role and a juicy one: Bayard Rustin, a crucial activist and architect of the post-WWII struggle for civil rights whose sexuality relegated him to the background more than he (or we) deserved. Your teenagers know Domingo from HBO's "Euphoria," fans of zombie apocalypse from "Fear the Walking Dead," indie-film stalwarts recognize him as the pimp in "Zola," and casual moviegoers probably saw him as the levelheaded bandleader Cutler in "Ma Rainey's Black Bottom." That last film's director, theater legend George C. Wolfe, is behind the camera in "Rustin," which focuses on the title character's organization of the 1963 March on Washington for Jobs and Freedom that culminated in Martin Luther King, Jr.'s "I have a dream" speech. Aml Ameen plays King, seen throwing Rustin under the bus in the opening scenes set in 1960, when smears about their friendship were circulating, then joining back up three years later as the D.C. march takes shape. There's a lot of political in-fighting, most of it coming from the NAACP, whose president Roy Wilkins (played by Chris Rock, of all people) dislikes the idea of 100,000 people crowding the National Mall and dislikes Rustin even more. Jeffrey Wright steals a few scenes as a delightfully arrogant Adam Clayton Powell, and Audra McDonald pops in briefly as activist Ella Baker; throw in Glenn Turman (another "Ma Rainey" alumnus) as A. Philip Randolph, CCH Pounder as Dr. Anna Hedgeman, Gus Halper and Johnny Ramey as Rustin's dueling bed partners, and a crowded headquarters of young, enthusiastic volunteers, and "Rustin" verges on being a mob scene. That Domingo keeps his character's head above the crowd goes to both the actor's skill and Bayard Rustin's outsized force of personality – imagine what the man might have accomplished if the movement hadn't kept shunting him to the background. Executive produced by Barack and Michelle Obama, the film's a lively, shallow history lesson – you come out knowing a lot about the March on Washington but still wanting to know more about Rustin. (A 2003 POV documentary, "Brother Outsider: The Life of Bayard Rustin," might do the trick – it's available on Kanopy and elsewhere.)
---
New On Demand: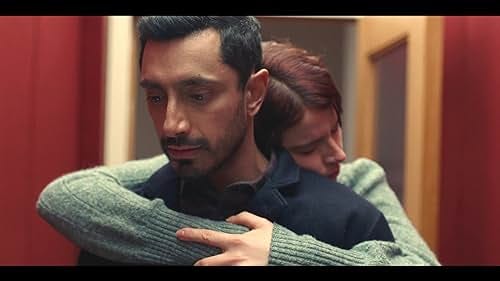 When "Fingernails" (⭐ ⭐ ⭐, streaming on Apple TV+) played at the Toronto International Film Festival in September, I reviewed it thusly: In a retro-future present, couples take a test to see whether they're truly meant for each other. Unfortunately, that test involves removing a fingernail from each party for data analysis. Jessie Buckley (above right) starts doubting her relationship with sweet, dull Jeremy Allen White ("The Bear") when she gets a new job working alongside Riz Ahmed (above left) at a company offering couples exercises to help lovers improve their chances of a match. The second film from director/co-writer Christos Nikou is lo-fi sci-fi with a smidgen of body horror and a big, lovelorn heart. Buckley and Ahmed are quite touching as two people not sure whether they're soul mates, let alone what to do about it, but the film's moral – love can never be quantified – just sort of lies there. It feels a little like Yorgos Lanthimos's "The Lobster" without the craziness, and that hurts.
Now that it's available for wider viewing, I can only add that the two lead performances and the film's haunting day-after-tomorrow sense of romantic melancholy have stuck with me a lot longer than I expected. Give this one a try.
---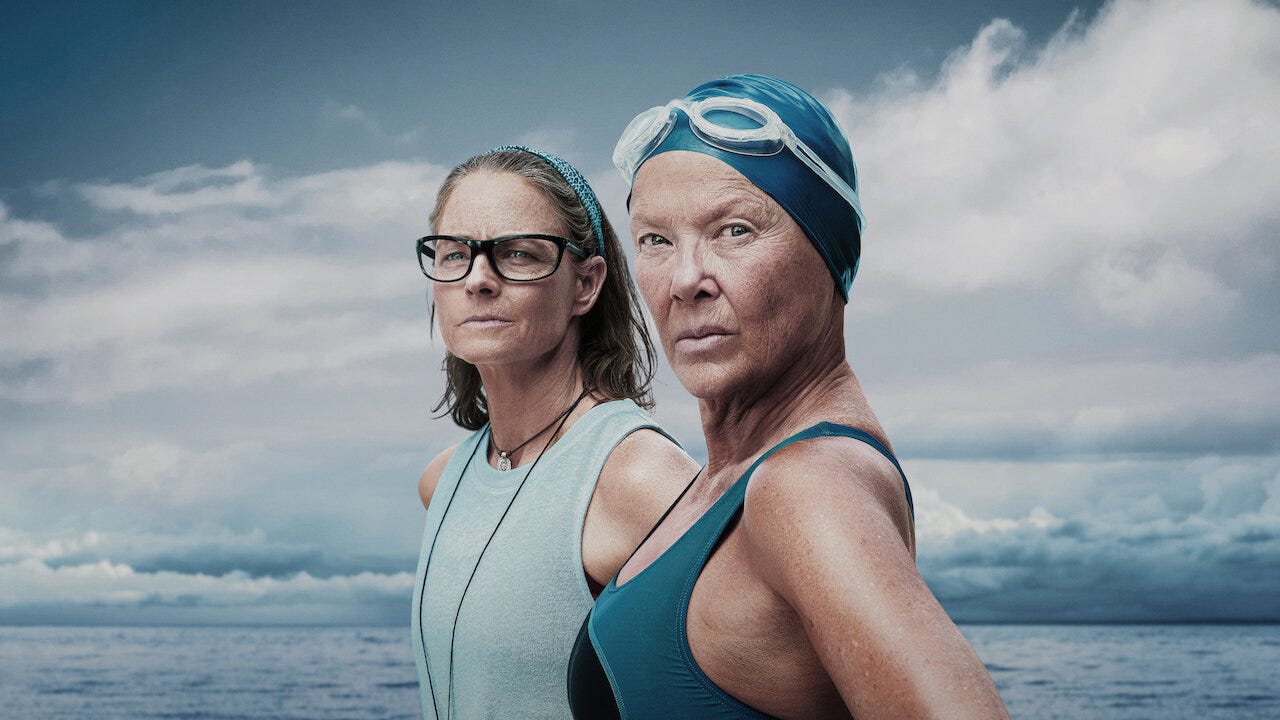 "Nyad" (⭐ ⭐ 1/2, streaming on Netflix). It stars Jodie Foster and Annette Bening (above) – do you even care what it's about? All right, all right: it's about Diana Nyad, the long-distance swimmer, who, depending on who's talking, is either an unstoppable force of nature or a massive pain in the ass. You might expect an actress to go easy on the second description, but Bening amps the pain-in-the-ass-ness up, which is why some of us love her. (Diana's line here — "The only one who gets to decide if I'm through is ME" — could apply to the actress herself.) Nyad set swimming records in her youth, but the film focuses on her five attempts to swim from Cuba to the Florida Keys from 2011 to 2013, when the swimmer was in her early 60s. Foster plays Bonnie Stoll, Nyad's friend and coach; among other things, "Nyad" is a portrait of a lesbian friendship that is rare in the complexity of its depiction and that seems to free Foster up to give one of her loosest, most infectious performances. Bening plays Nyad as a holy terror – the kind of friend who just keeps going and going and taking and taking – and while the filmmakers don't address the controversies and accusations that have dogged Diana Nyad's career, they do convey the outsized ego (or narcissism, if you will) that drives her. The long swimming sequences throw a lot at the character and the audience – sharks, poisonous jellyfish, repressed memories of molestation, hallucinations of the Taj Mahal – and you may crawl to shore as exhausted as Nyad herself. Watch it for the two lead performances if nothing else, and maybe bring a towel.
---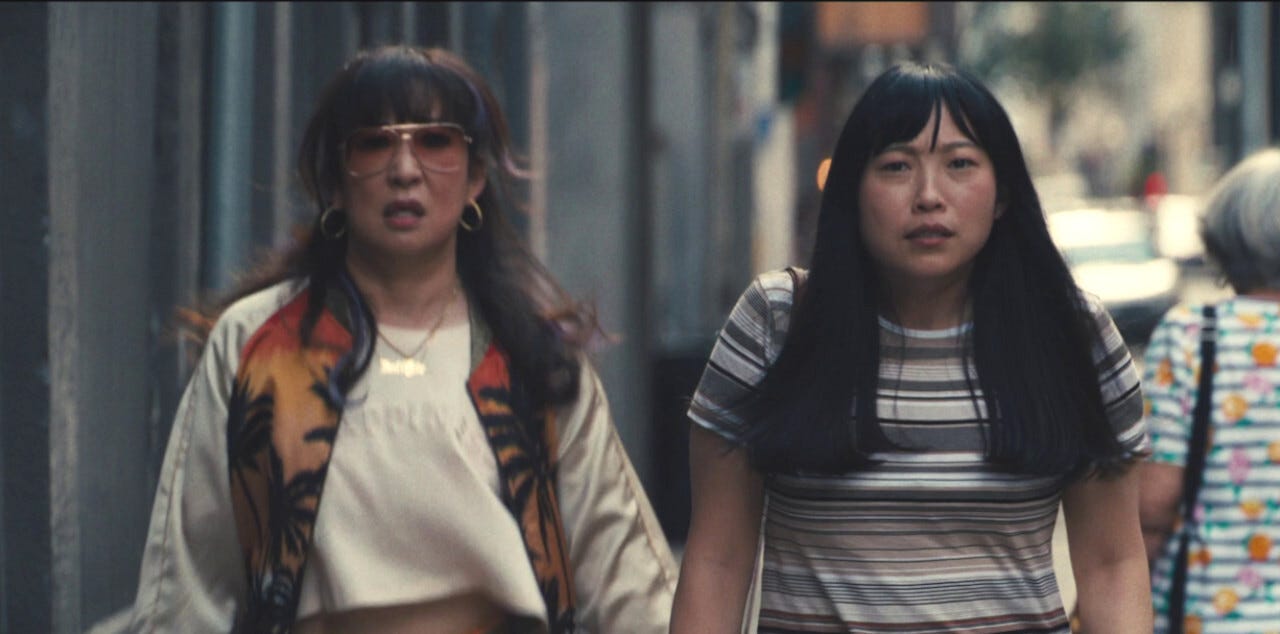 "Quiz Lady" (⭐ ⭐, streaming on Hulu) A broad-as-a-barn comedy that got some big laughs out of me in spite of itself. It's a sister-act road movie: Awkwafina (above right) is Anne, the socially stunted one, a nerdy trivia expert and obsessive watcher of "Jeopardy" (except here it's called "Can't Stop The Quiz"); Sandra Oh (above left) is Jenny, the older and messier one, a failed actress who can locate melodrama in crossing the street. The plot has them trying to get Anne on the game show so they can pay off their mother's gambling debts and retrieve the family dog from a loan shark. You'd think the actresses would have played each other's roles, but that wouldn't have allowed Oh to go screwball to the extent she does, with a big, splattery performance that some will find funny and others way over the top. Both actresses commit with a vengeance, but it was the stuff on the fringes that gave me the snorts: Tony Hale as the proprietor of a Ben Franklin-themed bed and breakfast, lonesome Will Ferrell playing his "SNL" Alex Trebek impersonation relatively straight for a change, and a surprise cameo from a beloved comic actor who is no longer with us. Oh, and if you're a sucker for dog-related humor, which I unfortunately am, the scenes featuring a service pug are both shameless and funny. A very silly movie, which you may sometimes need more than you actually want.
---
Classic pick of the weekend: "The Fountainhead" (⭐ ⭐ ⭐, on Turner Classics Saturday at 4:15 p.m.; also for rent on Amazon, Apple TV, YouTube, and elsewhere). Director King Vidor treats Ayn Rand's novel of rugged Objectivist individualism — the Bible for teenage civil libertarians everywhere — the way it should be treated: As a gonzo Freudian melodrama. Panned by critics as "downright weird" on its release in 1949, the film's been reappraised as a subversive near-masterpiece, with Gary Cooper as upright architect Howard Roark wielding a huge drill to impress heavy-breathing Patricia Neal. Biggest irony of all: Rand adapted the screenplay from her own novel with no idea the final result would someday be held up as a monument of Hollywood camp.
---
Comments? Please don't hesitate to weigh in.
If this edition of Ty Burr's Watch List spoke to you, feel free to pass it along to others.
If you're not a paying subscriber and would like to sign up for additional postings and to join the discussions — or just help underwrite this enterprise, for which the author would be eternally grateful — here's how.
You can give a paid Watch List gift subscription to your movie-mad friends —
Or refer friends to the Watch List and get credit for new subscribers. When you use the referral link below, or the "Share" button on any post, you'll:
Get a 1 month comp for 3 referrals

Get a 3 month comp for 5 referrals

Get a 6 month comp for 25 referrals. Simply send the link in a text, email, or share it on social media with friends.
There's a leaderboard where you can track your shares. To learn more, check out Substack's FAQ.