Discover more from Ty Burr's Watch List
What do you want to watch tonight? I'm a movie critic with four decades in the trenches and I have some thoughts for you (not always about movies).
Over 13,000 subscribers
What to Watch: "The Holdovers"
A disarming and delightful human comedy from Alexander Payne, with Paul Giamatti in top form as a Scrooge of a schoolmaster.
Note to readers #1: I've been out of town at a wedding for the past week, the last of a spate of travels that has kept my postings on the light side the past month or so. Expect more frequency as the end-of-year awards season swings into high gear.
---
Note to readers #2: In addition to reviewing "The Holdovers" below, I'll be interviewing director Alexander Payne for the Watch List next week as well as hosting a Q&A with him Monday Oct. 30 at the Somerville Theatre in Davis Square, following a screening of the movie that begins at 7 p.m. Do stop by if you're in the area.
---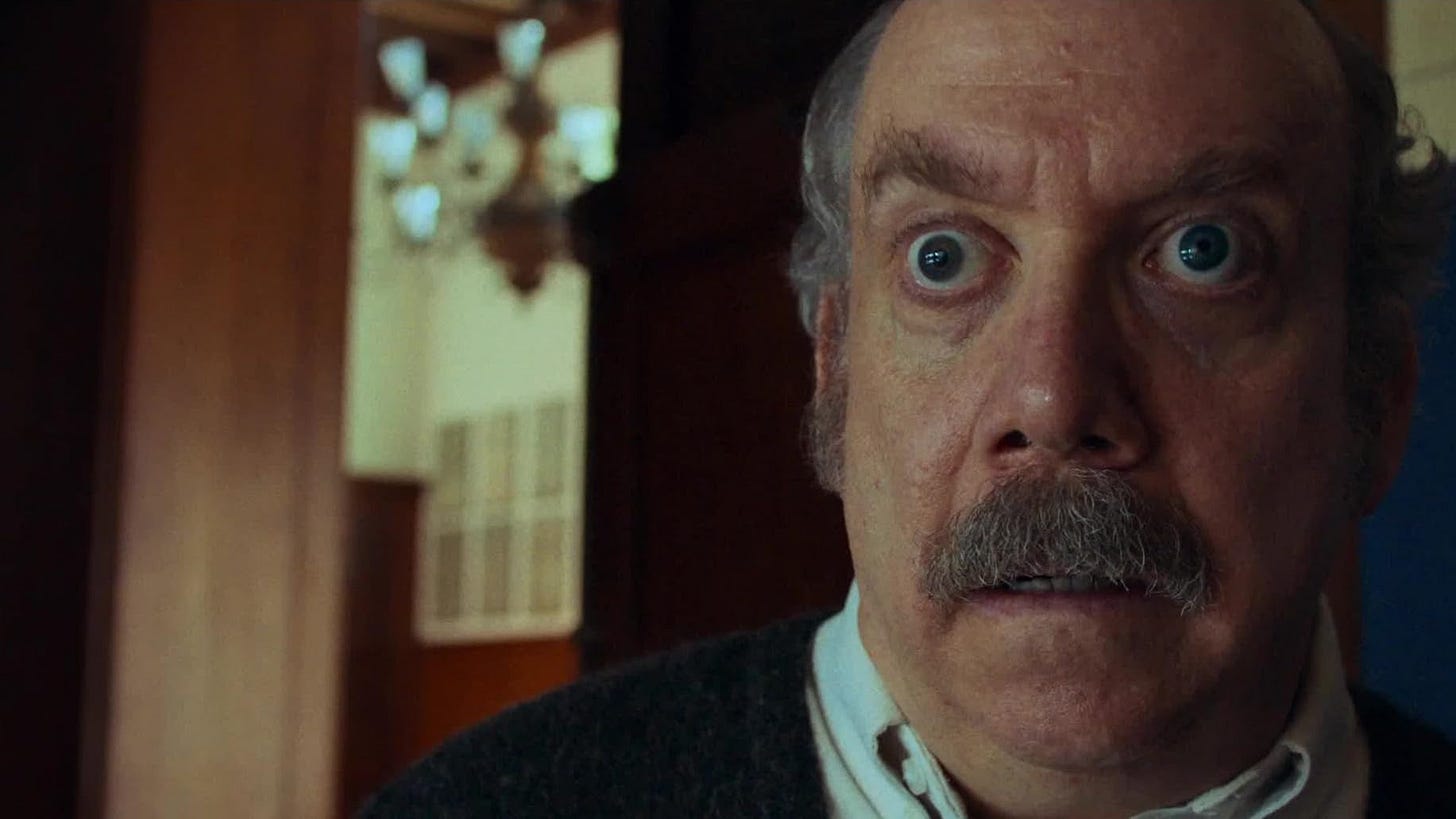 Do we really need a kinder, gentler Alexander Payne? At this particular point in the collapse of civilization, I would say: Yes, absolutely.
"The Holdovers" (⭐ ⭐ ⭐ ⭐, in theaters starting today) brings Payne, after the misfire of the interesting "Downsizing" (2017), back to what could comfortably be called his wheelhouse: Comedies about uncomfortable men – perhaps even deeply unpleasant men – hoisted on the petard of their own misanthropy. Jack Nicholson's Schmidt in "About Schmidt" (2002), the bitter patriarch played by Bruce Dern in "Nebraska" (2013), above all the tag-team of macho idiot (Thomas Haden Church) and dyspeptic wine snob (Paul Giamatti) in "Sideways" (2004) – all have tested our patience, invited our laughter, and remained their generally difficult selves, life lessons only partly learned, if at all. Payne is a sentimentalist, but he's an astringent one, with a fondness for the human propensity to shoot ourselves in the feet. His movies laugh at our follies with the slightest edge of comic cruelty before granting us an even slighter smidgen of clemency.
The new film lacks the edge and might in fact be Payne's mellowest piece of work ever (or at least since 2011's "The Descendants"), yet it has the bracing appeal of a tonic. And it has Giamatti gloriously in the lead again, playing a different kind of prickly pear: Paul "Wall-Eye" Hunham, a fusty, blustery blister of a classics teacher at a New England private school in the Christmas season of 1970. A former student at Barton Academy who took one look at the real world after college and high-tailed it back to his high school alma mater, Mr. Hunham is the epitome of a prep school "lifer," so weighed down with tradition, duty, and a proper appreciation for Ovid's "Metamorphoses" that he's just about unbearable. Even the school's principal, one of his old students, can't stand him.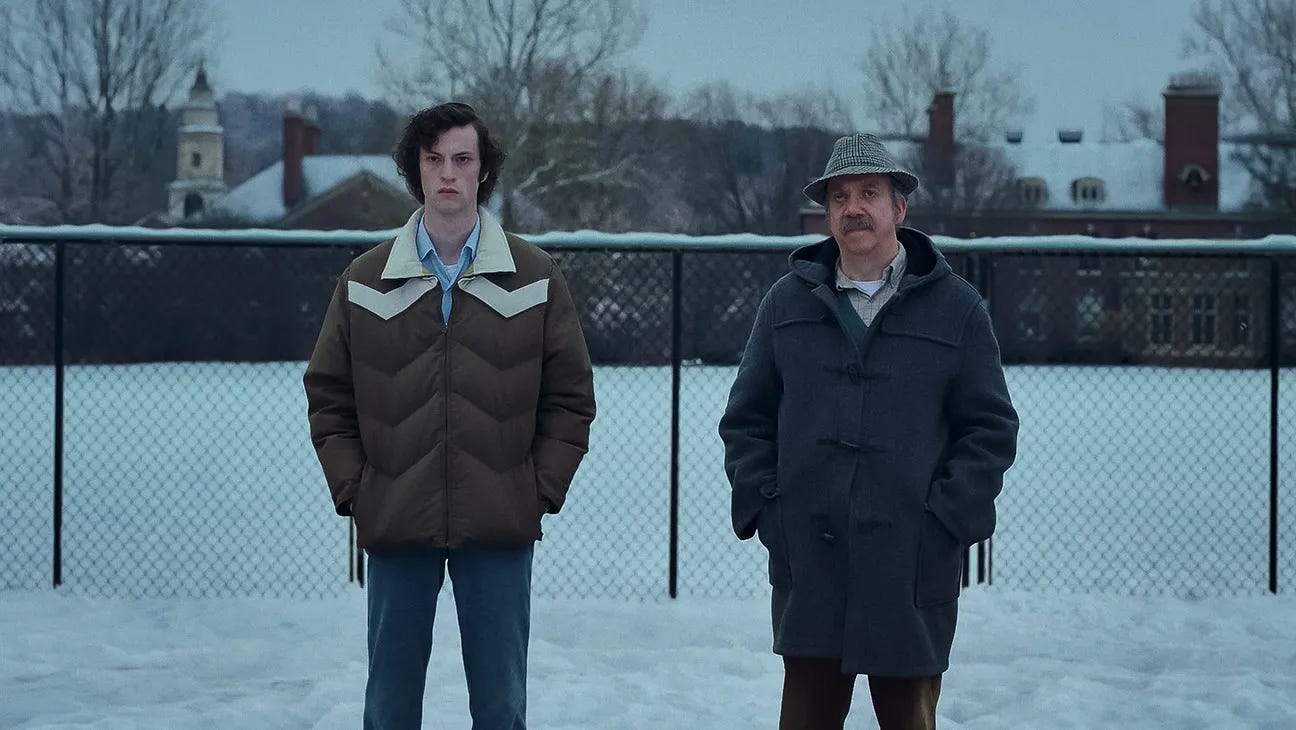 "The Holdovers" is written by David Hemingson, who apparently knows the territory. Speaking personally as a prep school survivor of the mid-1970s, the production design, costumes, cars, song choices, and social attitudes so precisely capture a time, a place, and the entitlements that came with both that the effect for me was like biting into a stale vanilla madeleine in the Robbins House cafeteria dessert line. (The film was shot in 2022 at a number of Boston area private schools, including my own; the color scheme is upper-class amber with a dusting of exhaust-encrusted snow.)
The brute banter of rich boys, the obliviousness of certain housemasters, the sense of decades of privilege eroding under the onslaught of the counterculture – it's all here. Giamatti is magnificent as the classic department's tinpot dictator, ruthless in failing students who've been assured of a greased Ivy League path through life. In another 20 years, he'd probably be like that one teacher I knew who was so advanced in senility that his only duty was overseeing study hall, where'd he'd call out the names of students who'd graduated years before.
A tweedy bachelor, Mr. Hunham is tapped – trapped, really – into babysitting the handful of students stuck at school over the Christmas holidays, a group of five "holdovers" that eventually gets winnowed down to one, a gangly, sad-eyed smartass named Angus Tully. Tully is played by newcomer Dominic Sessa, a student at Deerfield Academy who Payne rightly sensed could hold his own opposite a seasoned pro like Giamatti; the kid's a natural, and he gives Angus a sharp-edged wit that we come to see is grounded in sorrow. The professor and the student gradually come to an understanding but without much in the way of "Mr. Chips" hearts and flowers. More like two pieces of sandpaper grinding against each other.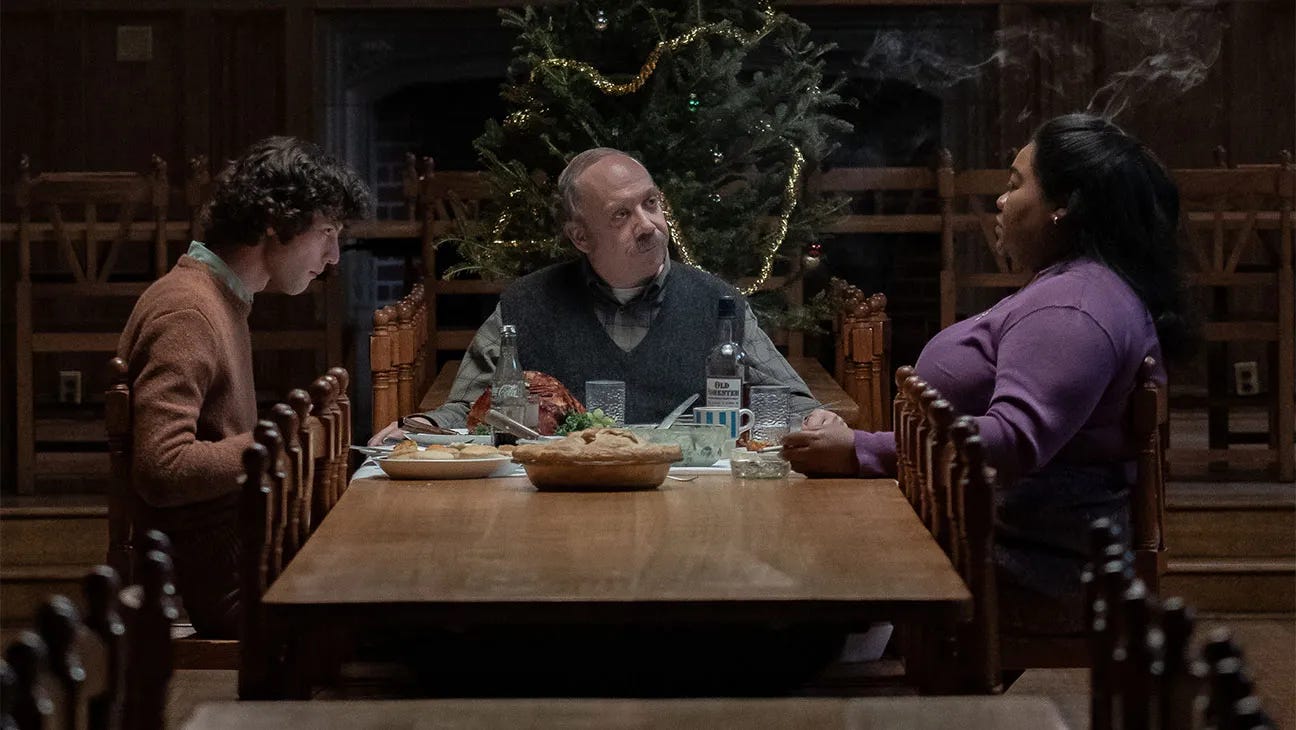 The third corner of the movie's triangle is Da'Vine Joy Randolph as Mary Lamb, head cook in the Barton cafeteria and another holiday orphan, all the lonelier since her son, one of the school's few Black graduates, was recently killed in Vietnam. Since breaking through as Lady Reed opposite Eddie Murphy in "Dolemite Is My Name" (2019), Randolph — like Giamatti, a Yale School of Drama alum — has been on a nice little run: The police detective in "Only Murders in the Building," a role as Mahalia Jackson in the upcoming "Rustin." She's wonderful here as a weary, sardonic working-class Black woman serving generations of America's golden boys, and Mary's scenes with Angus and Mr. Hunham, the three of them outcasts in their own lives, are equally funny and touching.
They aren't entirely alone. There are stops at faculty Christmas parties, liquor stores, hospitals, townie bars with townie patrons, a bowling alley (the Wakefield Bowladrome, which is a little far afield, but never mind), and a movie house played by the Somerville Theatre. Eventually "The Holdovers" works its way toward a location I will not spoil but at which one of the characters' hopes, dreads, dreams, and expectations are upended with the kind of finality that comes once in a lifetime, thankfully but necessarily. In its aftermath, there are choices.
You could attend this movie simply to worship at the altar of Paul Giamatti, and that'd be fine; with his pipe and smug air of superiority, one eye looking to the rafters and the other boring into your soul, an ache deep inside that even Livy's "History of Rome" can't fill, Paul Hunham is a complete creation, moving in his grasping at the epics of history while remaining terribly small. You can sense the actor, the writer, and the director all wondering What will it take to set this man free?, and if you don't share their concern at the start of the film, you come to share it fully by the end. "The Holdovers" isn't a return to form for Alexander Payne so much as a concentrated essence of his caustic yet forgiving view of our bumpy, hopeful journey on the road to oblivion. It's an early holiday present and it is a benediction.
---
Comments? Please don't hesitate to weigh in.
If this edition of Ty Burr's Watch List spoke to you, feel free to pass it along to others.
If you're not a paying subscriber and would like to sign up for additional postings and to join the discussions — or just help underwrite this enterprise, for which the author would be eternally grateful — here's how.
You can give a paid Watch List gift subscription to your movie-mad friends —
Or refer friends to the Watch List and get credit for new subscribers. When you use the referral link below, or the "Share" button on any post, you'll:
Get a 1 month comp for 3 referrals

Get a 3 month comp for 5 referrals

Get a 6 month comp for 25 referrals. Simply send the link in a text, email, or share it on social media with friends.
There's a leaderboard where you can track your shares. To learn more, check out Substack's FAQ.